Dragon Orbs
​
Strengthen your dragon with the help of Dragon Orbs! You can either choose to focus on one stat or you can customize your dragon's power any way you want with many different kinds of stat boosts.
1. Click on the Dragon Orb button to view the Dragon Orb interface.
2. The Dragon Orb interface holds five different orbs. Orbs become higher in level as you progress from bottom to top (with gray being void and orange being the most powerful).
3. Click the Dragon Orb in the center to receive a random orb. The higher the level of the orb selector is, the greater the chance of receiving a rare Dragon Orb.
4. Using the Dragon Orb System consumes Amethyst. Higher level orbs will consume larger amounts of Amethyst. So be sure to watch the cost of each click.
5. Grey quality orbs are void and cannot be picked up, but they can be sold. Players may only hold up to 16 orbs in the Dragon Orb interface at a time.
6. Combining Dragon Orbs will increase the orb's experience. To combine orbs, simply drag one orb to another. Once an orb's experience has reached a high enough point, the orb's level will be upgraded. To effectively utilize the Dragon Orb system, players will want to combine their lower level orbs with their higher level orbs.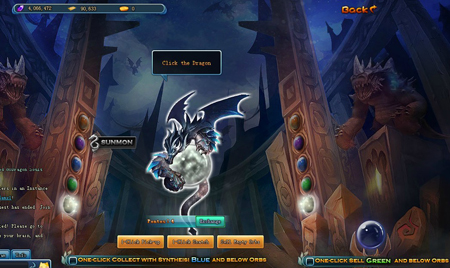 One-click Collect – Automatically picks up all non-grey orbs and puts them into your Dragon Orb Inventory (the crystal orb located in the bottom right-hand corner).
One-click Sell – Automatically sells orbs, depending on their quality. VIP members have a selectable option to sell all Green orbs and below.
One-click Capture – Automatically selects and captures top quality Dragon Orbs. VIP is required for this function. VIP members have an option to capture and combine all current Blue orbs and below.
Synthesize All – Automatically selects the highest quality Dragon Orb and combines all lower level orbs with it.
Exchange – You receive Orb Points for every orb that you purchase. Once enough points have been accumulated they may be exchanged for high level orbs here.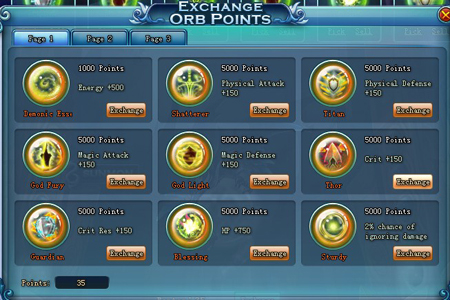 Click here to equip orbs

Notes:
Dragon Orbs are unique items, each with their own special quality and attributes.
Players can only equip one Dragon Orb of the same kind. Initially, players may only equip one Dragon Orb. However, they are able to acquire and equip more as they level up.