Dragon Pals Server Merge 3/7
posted:03/06/2014
​Dear Dragonians,
On March 7th we will be merging servers as the following list. These servers will be shut down for the merge at 1:30 AM EST/6:30 AM GMT/2:30 PM GMT+8 (3/6 10:30 PM PST) and are scheduled to be lasted for 2-3 hours.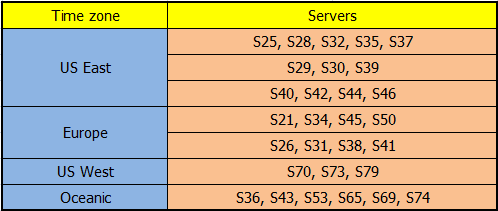 Below are the server merge rules for Dragon Pals:
1. Once servers have been merged, characters with identical names will be given a chance to rename their character for free.
2. If there are identical guild names, the guild master will be given the chance to rename the guild for free.
3. Characters level 30 and below who haven't recharged or haven't logged in for 1+ months will be deleted from the system.
4. Friendships with deleted characters will be severed.
5. If a deleted character was a guild master, the title will be handed down to the character with the highest Battle Rating.
6. Rankings will reset at 4:00 AM (server time).
7. The previous day's farm profits and events will be deleted and master-servant relationships will be terminated.
8. All mail except those with attachments will be deleted.
9. Earned titles will be kept; however, honor titles may change with the merge.
10. The Arena along with all rankings will be reset after the merge.
11. Guild Battle will reset and open the week following the server merge.
12. If items were sold in the Market to a deleted character, those items will be returned to the Market and available for purchase to all players.
13. Level up blessing packs and Battle Rating blessing packs will be reset.
14. EXP Recovery system will be reset.
15. Legendary Challenges will be reset.
16. Marriage Records will be removed.
Following the merger, we will host server merge events for the new servers! Please
click here
.
Best,
DPS Ops Team​