​Hot Event: Returns Galore
posted:09/29/2013
​Hot Event: Returns Galore
Get this awesome Gift pack! Only those stronger than the remaining 95% can attain it. Are you one of the strongest?
Duration: 00:00:00 09/29/2013 -- 23:59:59 10/03/2013
Description: During this Event, the more Gold Coins you Spend, the more Rewards can be received. Spend Gold Coins during this event and receive unique rewards! The Rewards include Life Crystal, Life Source, Golden Feather, Lucky Coins and so on. Returned gold coins count towards your points.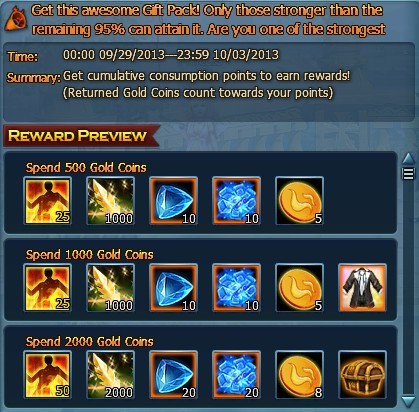 Summary: Get cumulative consuption poingts to earn rewards!(Returned Gold Coins count towards your points)
More Details can be searched in your servers hot events.