Marriage System's Brief introduction: Part 2
posted:09/15/2013
3. Make a Proposal
a. Suitors could directly click on using ring in the Inventory;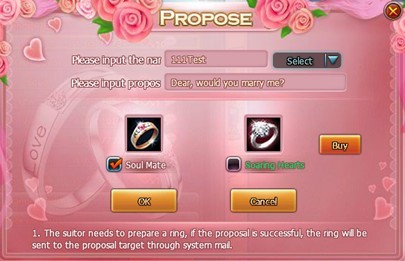 b. Suitors could directly click on using ring in the Inventory or click on the target character name in chat channel o friends interface and choose the Make a Proposal function in the pop-up menu;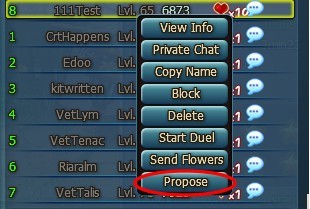 Type nickname of the beloved into the blank of Proposal Target then a marriage proposal letter will be sent there.
If no acceptance received from the targeted character within 90s, then this proposal results in failure, the system will reclaim the ring of the suitors.
If the targeted character accepts the ring, then this proposal has been preceded successfully and a letter of obtaining proposal ring will be delivered to this character by the system.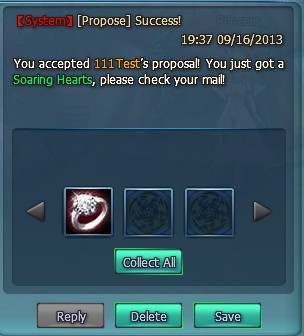 At the meantime, the marriage records page will copy down the time of your marriage with your wife.
Daily Couple Activities--- Wedding Party & Honeymoon Travel
Condition: Activated by successful making marriage proposal.
Wedding Party
a. Common party only available for once after the marriage
b. You can select High-grade wedding party or luxurious wedding party after the marriage to hold only once per day.
c. Holding parties can get Affectionate Values, which can be used to upgrade Predestined Marriage to obtain more attributes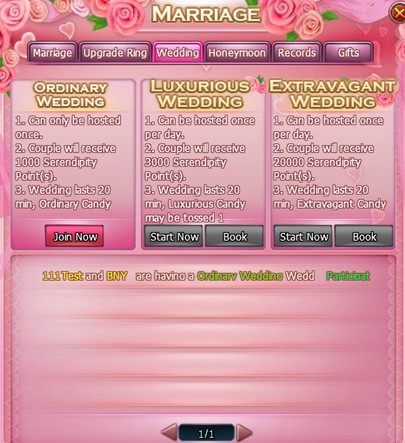 High-grade & luxurious wedding can be immediately held, and booking service is also available.
If booking a Wedding Party, then party will start according to the appointed time. At the same time, the system will send invitations to friends and guild members to join your wedding party.
When wedding party starts, you can click on the "Pass Right" Now button of the system note or click on "Join Party" button via the marriage records page to enter the party! (Lasting 30 minutes for each party)
Within the party, the man displays the default title "handsome bridegroom" and the woman displays the default title "beautiful bride".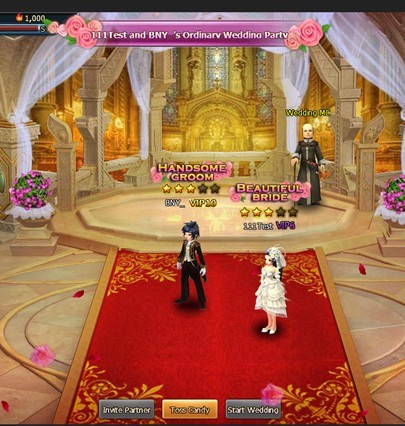 During the party, the couple is able to choose "Start Wedding".
After that, wedding animations will be on show…
During the wedding, bride and groom can choose to deliver wedding candies.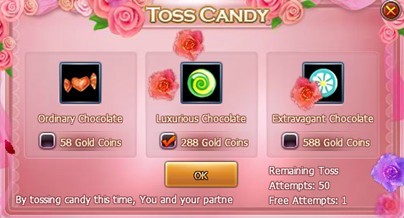 Delivering wedding candies can receive "Affectionate Values".
Guests in the party will get one wedding candy which can be used to obtain items for reward.
Guests there can click on the bride or groom, then the system will popup greeting interface for blessing the new couple, 30 times in maximum per day, Guests can select common blessing or luxurious bless, to add the character "EXP".