New Server -- Willowshire Level Up
posted:07/07/2013
Our new server Willowshire is going live on July 8th at 8:00am GMT+8, and we've got a special activity lined up for its launch. Reach the goals and earn "Level Up" packs that contain some very special rewards.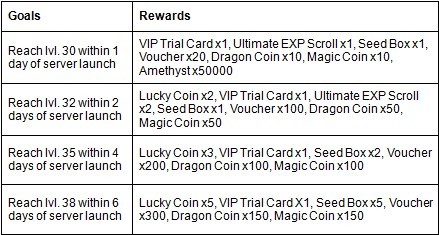 Tips:
● Lucky Coins can be used in the Wishing Well.
● Double click your Dragon Coins to open the Arena Shop, and exchange for Relics, Belts, Pants, Boots, Lvl. 2 Blue Crystals, and Lvl. 2 Magic Crystal Stones.
● Double click your Magic Coins to open the Crypt Shop, and exchange for Lvl. 2 Yellow Crystals, Lvl. 2 Sacred Moon Stones, Rings, and Necklaces.
Note: Rewards will be sent as Gift Packs.
See you on Willowshire
The Dragon Pals Team