Visit the Lucky Bazaar, Take Succubus Wings Home!
posted:07/25/2014
​
Greetings Dragonians! We are happy to announce that July 25th's update will bring a special feature along with it - the Lucky Bazaar! Lots of incredible items can be found here, even rare Succubus Wings so don't miss out!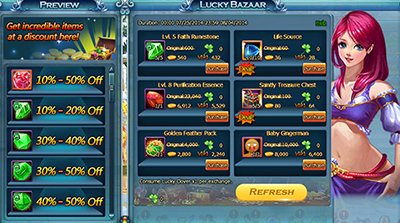 Duration
: 7/25/2014 – 8/04/2014
Servers
: S1 - S156
Description
: Get Lucky Clovers from the Treasure Hunt to exchange for rare items in the Lucky Bazaar.